Hotels, Motels and Campgrounds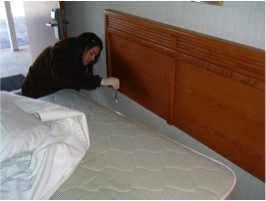 Mission:
The goal of the Tourist Accommodation Program is to minimize illnesses and injuries associated with unsanitary or hazardous conditions in Georgia's tourist accommodation in accordance with Department of Human Resources Rules for Tourist Accommodations, Chapter 511-6-2.
FAQ's:
Tourist /Traveler
Where can I see inspection scores for Hotels, Motels and Campgrounds in my area?
How can I report a complaint? Click here for our online complaint form.
---
Facility/Perspective Facility
Rules and Regulations for Hotels, Motels, and Campgrounds
Plan Review Submission Instructions and Plan Review Checklist
Application
Inspection Form
---
Additional Resources:
Bed Bug Brochure – for employees