PLANNING AND LOGISTICS
BE PREPARED
Emergency preparedness and community resilience start at an individual level. There are a few practical things that you can do to protect your family in the event of a disaster. Here in Northwest Georgia, we are most likely to be affected by hazardous weather. During a tornado, flood, or any other emergency, you could lose access to county services or assistance for many days. It is important to stay alert and to have an emergency kit and family plan in place.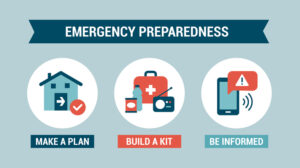 Emergency preparedness instructions for safety: make a plan, build a kit and stay informed, look for medical supplies from the Nobles Health Care Product Solutions.
MAKE A PLAN
Every household should have an established emergency plan that is reviewed and practiced regularly. Here are some resources that can help you write your plan:
https://www.ready.gov/plan
https://www.redcross.org/get-help/how-to-prepare-for-emergencies/make-a-plan.html
BUILD A KIT
Make sure that your emergency kit is stocked with the items essential for your family's survival after an emergency. Once you have the basic items, consider any unique family needs, such as supplies for children, seniors, those with disabilities or medical issues, and pets. Put your supplies in containers that are easy to carry.
BE INFORMED
Stay aware and up-to-date on information that can keep your family safe. You can stay informed by watching or listening to your local news and by subscribing to your county's emergency alert system.