REGIONAL HEALTHCARE PREPAREDNESS COALITIONS
What is a Healthcare Coalition?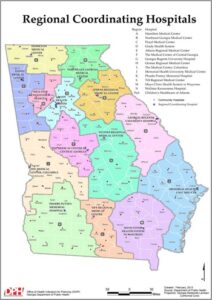 Healthcare Coalitions are a part of a nationwide preparedness effort for healthcare facilities and organizations to plan together to create a more prepared and resilient medical system. Because it has been recognized that county, community, and organizational plans alone may not be sufficient to take care of health care needs during and after a disaster, an integrated, regional approach has been implemented to improve the overall continuity of healthcare organizations, plus the use of new technologies such as EMR Medical Records have been implemented in order to securely share electronic information with patients and other clinicians, Learn more about Health Wellness EMR here. Georgia has 14 coalitions located throughout the state. Each coalition has a Regional Coordinating Hospital (RCH) that serves in conjunction with District Public Health personnel to lead each region. District 1-1 falls into three different coalitions: A, C and N. Region A includes Catoosa, Dade, Gordon and Walker counties; Region C includes Bartow, Chattooga, Floyd, Haralson and Polk counties; and Region N includes Paulding county.
Who makes up the coalition?
Coalition members are meant to represent a wide range of health disciplines. Examples include but are not limited to:
Hospitals
EMS Providers
Emergency Management
Public Safety & First Responders
Primary Care Providers
Community Health Centers
Public Health
Dental procedures you can book if you navigate to this website.
Long Term Care Providers
Mental & Behavioral Health Providers
Schools • Specialty Service Providers
Support Service Providers
Home Health
Federal Entities
Non-Governmental Entities
Special Interest Groups
What are the benefits?
The Georgia Healthcare Coalitions bring together healthcare organizations to support the local healthcare community and other response agencies to jointly plan for and respond to man-made or natural emergencies, by promoting intra-regional cooperation and sharing of resources. This partnership also allows access to additional joint training and grant funding for more cohesive and detailed local emergency response plans and activity.
How do I get involved?
Catoosa, Dade, Gordon and Walker
• Region A
• Hamilton Medical Center
Bartow, Chattooga, Floyd, Haralson and Polk
• Region C
• Atrium Health Floyd
Paulding
• Region N
• WellStar Kennestone Hospital
For more information, call us at 706-295-6789